Artistic Murals & Sculpture By: Tamara Gerkin
Presents:
"ETERNaL LOVE"
Life size memorial portrait sculpture of
Mr. & Mrs. William Bissi during the 1940s
in honor of the late Mrs. Bissi
Married: february 14, 1943 (64.5 years ago)
To be dedicated on may 11, 2008
Trinity Memorial Gardens, New Port Richey, florida
---
My first Sculpture:
My intention with this sculpture was to depict the enormous love and devotion that Mr. William Bissi and his late wife, Dorothy had for each other and their family. They were married on Valentine's Day 64.5 years before her passing. Their marriage was full of compassion and love for each other and everyone in their lives.

Maquette 1.5x3"
after being cast in bronze, the sculpture will be placed at Trinity Cemetery, New Port Richey, fL on Mother's Day, May 11, 2008.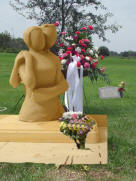 This super-imposed image of the small sculpture on location at Trinity was meant to give everyone a visual idea of what the final sculpture could resemble.
Post Maquette:
The sculpture began with wet clay in my studio at Port Richey. Shortly after building the basic shape of the two bodies and arms, I had to fly to Denver to be with my Dad. While there, I started the project over again using oil base clay which is transportable. My Dad built two excellent armatures to hold the two heads. I sculpted the two heads and 4 hands, using a single photograph of the portraits I had painted in the Bissi mural. Once home I was able to work with Mr. Bissi, his photographs of Mrs. Bissi and their children. Doug posed for the back, the girls posed for sections of their Mom's face. This was truly a family event that took 5 months and over 1000 hours to complete.
Most of the photographs of the sculpture were taken by photographers John Tischner and Larry Gerkin. Without these two excellent photographers, I would not have been able to carefully document the progress of this project. I will define the two photographs by placing a JT, LG or TG next to the photo.

The basic head and hand shapes were created while visiting my Dad in Denver whose beloved wife had just passed away. My only model at this time was a photograph taken from my website of Mr. & Mrs. Bissi's portrait portrayed in their mural. Upon returning to the studio in Port Richey, I was able to use Mr. Bissi, his photographs and children as models.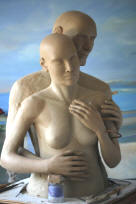 (LG)

(JT) after attaching the heads and hands to the new bodies, I began detailing facial features, adding hair and dressing the bodies.

My dear friend John Tishner visited the studio frequently to help document this project. I am very grateful for his efforts and the wonderful story he wrote about the sculpture and Mr. Bissi that I invite you to take a moment to read. John has since retired as the The Suncoast News Editor and has started his own writing/consulting business. as one might guess, he is doing very well. 'Retired' Bissi Still Staying Busy "a West Pasco man has commissioned a sculpture that will stand beside the grave of his beloved wife in Trinity Memorial Gardens."
The Suncoast News - Nov 28, 2007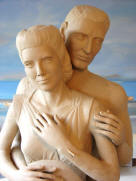 (JT)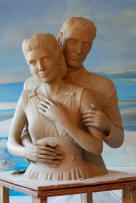 (LG) Mrs. Bissi loved the arts and dancing. The dress she is wearing is a modified Ball Room Dancing dress from the 1940s. I liked the way it silhouetted her small frame. Mr. Bissi normally wears a suit and tie, which is a perfect match for his wife's dress.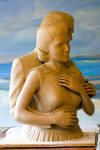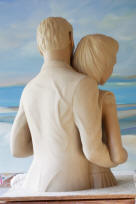 (LG) finished Clay January 8, 2008
after 5 months & over 1000 hours:
"The Bissi's Have Left The Studio"



The Bissi's have left the studio: Rick, the owner of Bronzart foundry, transported the clay sculpture to his foundry. This was a nail biting moment for us all, in fact I think everyone was holding their breath. I picked Bronzart based on the quality of their work, service and location. Bronzart foundry, Inc. Tele: (941) 922-9106 Sarasota, florida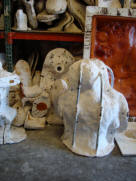 at the foundry: The first step was to make molds from the clay sculpture. The sculpture was dismembered in strategic places to ensure excellent molds. The large mold in front is from the clay bust of Mr. & Mrs. Bissi with Mr. Bissi.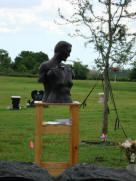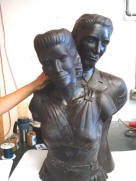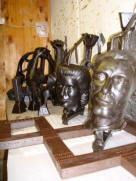 The Wax: Liquid wax is poured into the plaster molds to create an exact replica of the clay sculpture. Please visit www.bronzartfoundry.com to learn more about lost wax casting in bronze. Doug, Mr. Bissi and I took a portion of the wax to the cemetery. We wanted to see what the finished piece would look like on the future headstone. The tree to the right of the sculpture was planted by the Bissi family in honor of Mrs. Bissi.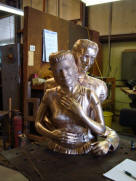 Raw Bronze: Wayne the welder, Rick the owner and Doug all patiently waiting for me to hurry up and take this shot.
The next stage will be welding all the pieces together, then sandblasting the raw bronze. Mrs. Bissi's face was sandblasted while Doug and I were at the foundry. This allowed us to see her without the typical light refractions found in unfinished bronze.
---
"Eternal Love" is now safely at Bronze art foundry in Sarasota, fL. They will have it for about 10 weeks. Installation will be May 8 or 9 with a dedication on May 11, 2008.
Thank you Mr. Bissi, Doug, Debbie, Roberta & Rebecca for all your support, for posing and for having the confidence in me to create this sculpture. I have truly enjoyed the journey and look forward to seeing it cast in bronze, and then placed at its final destination at Trinity Memorial Gardens as the headstone for Mr. Bissi and the late Mrs. Bissi. Mrs. Bissi was a beautiful lady that was greatly loved and is dearly missed. It has been an honor to create this sculpture for you. Thank you for hiring me.
I also thank my Dad, Don Gerkin for building the armatures and for his support with this project. My brother, Larry Gerkin for all the excellent photographs he so generously took. My dear friend, John Tischner for his beautiful photographs and for writing the fantastic news paper article inThe Suncoast News, Tampa Tribune and Hernando Daily News. Cyrus for his perfect damage control and my sister-in-law Sheila for making the buttons. My Mother, Kay Sampson for putting up with me for the past 5 months and for being my second pair of eyes while sculpting "Eternal Love". Lastly my gratitude goes out to the staff at Bronzart for all the hard work they did in turning the clay sculpture into bronze. I appreciate everyone's help immensely.
With love, honor and respect,
Tamara