THANK YOU for visiting Artistic Murals website!
What is a mural? A mural by definition is a painting that is done directly on a wall regardless of size or paint used by the artist. There is some controversy in the art world today about murals that are first painted on canvas then glued to walls. Some believe that a mural on canvas is not a mural but instead it is a painting. My personal feeling is that because the pre finished painting is attached to a wall with glue, that it falls in the catagory of hand painted wall paper. On the other hand, if the artist first glues canvas to a wall, then creates the mural, it is considered a mural because, and here is they key...the image is painted directly on the wall. With that said...
WELCOME TO MY WEBSITE!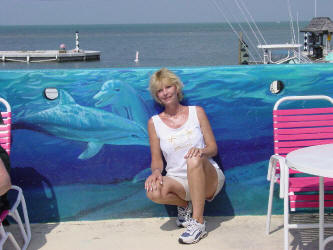 ---
I paint, sculpt and truly enjoy meeting new people.
"My fist sculpture."
(Well, at least it is the first one that I created by myself.)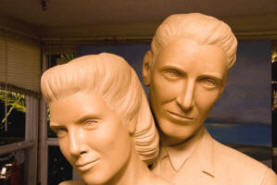 Mr. & Mrs. William Bissi
(Life size sculpture)
In loving memory of Mrs. William Bissi.
Trinity Memorial Gardens at New Port Richey, FL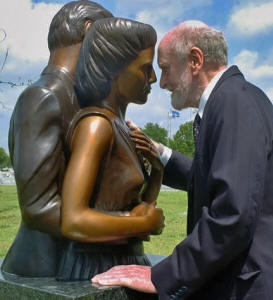 Tribune Photo by Andy Jones
Thank you Tribune photo Andy Jones and Columnist Tom Jackson, for all the time you spent at the dedication taking photographs and talking to the family. You helped to make a special moment in everyone's lives even more memorable.
---
"Giving to Charity"
In Honor Of All Those Living With MS. These beautiful prints help raise funds for MSAA and would grace any wall in your home or office. Simply follow this link to add one or more to your collection: MSAA Fundraising Botanical Print Series
Christina's Garden -Beautiful Tomorrow -Ray Of Hope
Since painting these paintings 2 of the 3 people they were dedicated to have passed away. One, my 37 year old niece, died from complications that came from taking tysabri, which is a drug given to those with agressive MS. Tthe other died from MS complications, she was only 55. May they both rest in peace.
"
It is not how much we do, but how much love we put in the doing. It is not how much we give, but how much love we put in the giving.
"
--Mother Teresa